BODY LIFT SURGERIES
BODY LIFT (Tummytuck & Buttock Lift)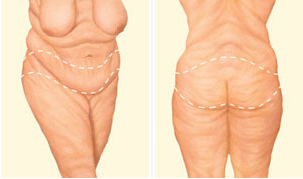 A body lift combines a tummy tuck with a buttock lift. While it is a much greater procedure to recover from and has a higher chance of needing a stay in the hospital, the results can be extremely dramatic.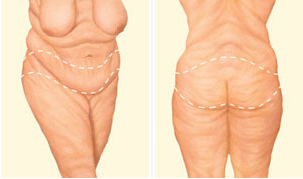 An incision in made all the way around the body to remove skin both in the front and the back. Improvement in the buttock, back, lateral thighs and abdomen can be dramatic.
 Outpatient surgery center. The majority of patients go home the same day. You should arrange for someone to care for you for a minimum of 24 hours and to have some help off and on over the next few days. The surgery can take anywhere between one and five hours depending on the exact procedure.
Recovery
You will have swelling and a variable degree of discomfort afterwards. Pain medication is also prescribed. Post operative care will be taught by our recovery nurses. You should expect to feel tired and sore when you leave. On rare occasions (more frequent with body lifts) a hospital stay will be needed
While you may not be able to stand straight you should be walking some in the days following. Frequent post op visits will be required to check on your incisions and to remove your drains. Light activities may be allowed a few weeks after surgery but it may be six weeks before full activity is allowed. Return to work for desk type activities is usually in about two weeks although some recover faster and some slower. If your job requires lifting and straining, it will certainly be longer.
You can expect some swelling to last weeks to months and the scar can take a year or more to completely mature. You will be advised on how to improve the appearance of your scar. As with any cosmetic procedure touch ups may be needed.
You will be responsible to control your weight and exercise after fully healing. Your results will be long lasting as long as you take care of yourself.
BRACHIOPLASTY/ARM LIFT SURGERY
ENHANCING YOUR APPEARANCE WITH AN ARM LIFT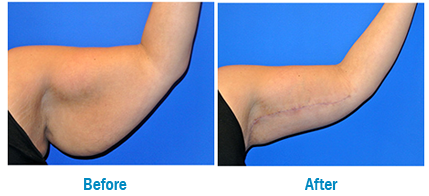 An arm lift, also known as brachioplasty, reduces excess skin and fat between the underarm and the elbow, reshapes the arm for smoother skin and contours, and results in a more toned and proportionate appearance. Fluctuations in weight, growing older and even heredity can cause your upper arms to have a drooping, sagging appearance. Exercise may strengthen and improve the underlying muscle tone of the upper arm, but it cannot address excess skin that has lost elasticity or underlying weakened tissues and localized fat deposits. Brachioplasty can address those issues. If the underside of your upper arms are sagging or appear loose and full due to excess skin and fat, an arm lift may be right for you.
THE BENEFITS OF BRACHIOPLASTY
Reduces excess skin and fat between the underarm and the elbow
Reshapes your arm to result in smoother skin and contours
Results in a more toned and proportionate appearance
Be prepared to discuss:
Why you want the surgery, your expectations and desired outcome
Medical conditions, drug allergies and medical treatments
Use of current medications, vitamins, herbal supplements, alcohol, tobacco and drugs
Previous surgeries
Incisions are generally placed on the inside of the arm or on the back of the arm, depending on the surgeon's preference, and may extend from the underarm (axilla) to just above the elbow. If fat is to be reduced during your arm lift, it will be excised or treated with liposuction. Depending on your specific conditions, incisions may be more limited. Then, underlying supportive tissue is tightened and reshaped with internal sutures. Finally, the skin is smoothed over the new contour of your arm.
BRACHIOPLASTY RESULTS
The smoother, tighter contours that result from brachioplasty are apparent almost immediately following your procedure, although initial results will be somewhat obscured by swelling and bruising. Your new, shapely and toned upper arm can be dramatically improved both in appearance and feel.
The results of arm lift surgery will be long-lasting, provided that you maintain a stable weight and general fitness. As your body ages, it is natural to lose some firmness, but most of your improvement should be relatively permanent.