COSMETIC MOLE REMOVAL & TATOO REMOVAL
WHAT IS A MOLE?
Moles are blemishes of various sizes and colours that are often commonly seen on the body or face. They can be flat or raised, and can be a variety of shapes. Although most moles are harmless, it is important to ensure a doctor examines any mole that changes shape, colour or starts to irritate.
Moles are very common, with 1 in every 100 babies being born with one, according to theAmerican Academy of Dermatology, but for some people they can have a huge effect on self-confidence, especially if the mole is on the face or other parts of the body where people can see them?
ARE MOLES DANGEROUS?
A dermatologist should always be asked to assess a mole to advise on whether it is an indication of something serious.
WHAT IS MOLE REMOVAL SURGERY?
This is an operation to remove the mole. This may be because it has shown changes in shape or colour, or is unsightly, painful or restricting your movement. Removing a mole with Spire Cosmetic Surgery is usually a quick and straightforward procedure and is often performed as an out-patient or day-case procedure, with no overnight stay.
WHAT DOES MOLE REMOVAL SURGERY INVOLVE?
The operation is usually carried out under a local anaesthetic, which means that the affected skin area will be completely numb but you stay awake. Sedative drugs can be given with a local anaesthetic to help you feel relaxed during the procedure.
In some cases, a local anaesthetic and/or sedation is not needed. This will depend on the type of treatment you are having and the size, location and number of moles that need removing.
The exact technique used for removing the mole depends on factors such as what condition it is, its size and location.
Most moles are removed with a scalpel and the wound closed with stitches. Some moles may be shaved down to the level of the surrounding skin. Alternatively some may be frozen off with cold liquid nitrogen gas or destroyed with a precision high-energy laser.
The operation will usually leave a scar. How big and noticeable this will be depends on the exact operation. It's quite normal for a scab to develop and this will generally heal within a week or two. Any inflammation will usually disappear within a few weeks. Most scarsfade significantly over the first year.
ARE THERE RISKS WITH MOLE REMOVAL SURGERY?
Thousands of mole removal treatments are successfully done every year with no major problems or complications.
Your surgeon will explain the risks associated with each method and advise you on which treatment option is most suitable for you. Samples of the removed mole may be sent to a laboratory for examination.
TATTOO REMOVAL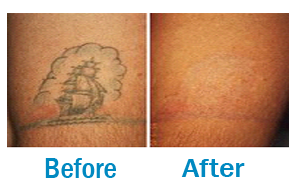 WHAT IS A MOLE?
Tattoo removal has been performed with various tools during the history of tattooing. While tattoos were once considered permanent, it is now possible to remove them with treatments, fully or partially.
Before the development of laser tattoo removal methods, commons techniques included dermabrasion, TCA (Trichloroacetic acid, an acid that removes the top layers of skin, reaching as deep as the layer in which the tattoo ink resides), salabrasion (scrubbing the skin with salt), cryosurgery and excision which is sometimes still used along with skin grafts for larger tattoos. Some early forms of tattoo removal included the injection or application of wine, lime, garlic or pigeon excrement. Tattoo removal by laser was performed with continuous-wave lasers initially, and later with Q-switched lasers, which became commercially available in the early 1990s. Today, "laser tattoo removal" usually refers to the non-invasive removal of tattoo pigments using Q-switched lasers. Typically, black and darker-colored inks can be removed more completely
Motives
A poll conducted in January 2012 by Harris Interactive reported that 1 in 7 (14%) of the 21% of American adults who have a tattoo regret getting one. The poll didn't report the reasons for these regrets, but a poll that was done 4 years prior reported that the most common reasons were "too young when I got the tattoo" (20%), "it's permanent" and "I'm marked for life" (19%), and "I just don't like it" (18%). An earlier poll showed that 19% of Britons with tattoos suffered regret, as did 11% of Italians with tattoos.

Surveys of tattoo removal patients were done in 1996 and 2006 and provided more insight. Of those polled, the patients who regretted their tattoos typically obtained their tattoos in their late teens or early twenties, and were evenly distributed by gender. Among those seeking removals, more than half reported that they "suffered embarrassment". A new job, problems with clothes, and a significant life event were also commonly cited as motivations.
The choice to get a tattoo that is later regretted is related to the end-of-history illusion, in which teenagers and adults of all ages know that their tastes have changed regularly over the years before the current moment, but believe that their tastes will somehow not continue to grow and mature in the future.
As a result, they wrongly believe that any tattoo that appeals to them today will always appeal to them in the future.