BREAST AUGMENTATION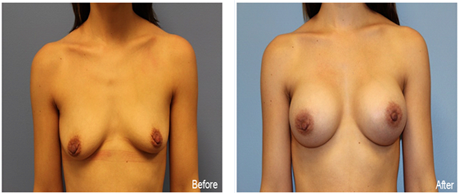 Breast augmentation is one of the most frequently performed cosmetic procedures. Placement of breast implants has tremendous benefits to self esteem and confidence, ease of wearing clothing and gender identity. The satisfaction rate from breast augmentation surgery is extremely high.
Appropriate breast augmentation mammoplasty are those women with breast or rib cage asymmetry,volume loss with pregnancy,mild sag or ptosis,small breastsize in proportion to the rest of the body or to correct breast volume loss from surgical means or trauma.

There are two types of implants currently availablethese are saline filled implants with a silicone elastomer shell and cohesive silicone gel filled implants, also with a silicone elastomer shell. The patient must be at least 22 years of age to have a silicone gel implant placed. The type of implant right for you will depend on your individual goals and circumstances, your exam and discussion with your plastic surgeon. It may be that both are equally good options for you, in which case with the help of your plastic surgeon, the style that best matches your goals will be selected. Some of the differences of saline and silicone implants are listed below.
Saline is less expensive, firmer, and has more ripple potential. It also can be put into a smaller incision no matter the size of the implant and is adjustable in volume.
Silicone gel is more expensive, tends to be softer and show ripples less, however, it needs a bigger incision the bigger the implant gets. It is also the most natural feeling implant because the silicone gel is thicker and more the consistency of body tissues. There are three incision options for placement of a breast implant: Transaxillary – from the under arm area, in which an endoscope is used to assist in creation of the pocket, Inframammary—in the breast crease, and Periareolar—from the nipple area. You may be a good candidate for only one of these approaches, or all three. There are two pocket options for the implant itself: under the pectoralis major muscle (submuscular, partial submuscular or biplanar), and under the breast gland itself (subglandular). The surgeons at Sculptura Aesthetic Surgery Centre have extensive experience in all of the incisions and both pocket placement options. They will assist you in selection of the best approach suited for your breast augmentation needs.