DENTISTRY
WHAT IS COSMETIC DENTISTRY?
Cosmetic dentistry is dentistry aimed at creating a positive change to your teeth and to your smile. Most think of tooth whitening or veneers when cosmetic dentistry comes to mind, but a cosmetic dentist can provide much more.
A skilled, experienced cosmetic dentist can help to improve your appearance, your smile, even your self-esteem, and confidence. Today, cosmetic dentistry has continued to evolve to where cosmetic dentists can address functional and esthetic patient concerns.
YOUR FIRST APPOINTMENT
All of us age at different times and rates so a facelift should be considered when facial aging has occurred. This can be anytime. We have seen substantial aging as young as the late 30's and have successfully operated on those in their late 70ís. A facelift will give you a "fresh" look it should not make you look different. We have heard many say "I would never get a facelift because they look so fake." We say you just never notice the ones done well. The most common responsese are; "Did you get a new hairstyle?" or "Have you lost weight". Or more commonly, "You just look so good"While we all feel we know a beautiful smile when we see one, there is no perfect smile. That's because each person has a different perception of what is beautiful; you and your cosmetic dentist may even have a difference of opinion. So it's important that you discover what you really like and then communicate that to your dentist.
DENTAL MATERIALS
There have been great advances in materials used in the field of dentistry in the past few years, with crowns and bridges improving by leaps and bounds.
COSMETIC DENTISTRY
TYPES OF TEETH WHITENING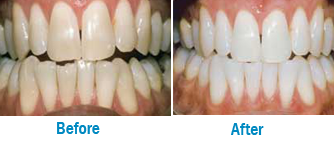 There are various ways to whiten your teeth, but the two most common are in-office treatment and the do-it-yourself approach, with over the counter products.
IN-OFFICE TEETH WHITENING

In-Office Teeth Whitening Professional tooth whitening in a dental office is the preferred whitening method because even though stronger agents are applied,the rest of the mouth,including the gums,is protected from these materials. The best whitening systems feature a buffer in the gel that protects the tooth enamel from damage,are extremely effective & can transform teeth in a single visit. Your teeth can literally brighten upto 10 shades in about an hour.
In-office whitening affects only the front eight teeth and is a great jump start for take-home whitening, which is always part of an effective whitening program.
Your dentist is best qualified to handle any issues that may arise from whitening treatments, such as tooth sensitivity. Today most tooth sensitivity cases are easily managed.
Tooth whitening can last for one or more years, depending on how well you take care of your teeth, and if you're following up regularly with a home whitening product for regular maintenance.
TOOTH JEWELLERY
Body art is increasing in popularity within a fashion industry.It includes tattooing,body piercings & oral jewellery,which consists of soft tissue piercings and or objects attached to teeth.All body piercing presents a level of risk of infection.Because of the presence & variety of bacteria in the oral cavity,oral piercings are considered to have higher risk & are therefore strongly discouraged.But now a new craze is sweeping across the world that will make you shine like a star to really be glamorous,unique & fashionable,tantalize your teeth with top-quality tooth jewellery which is painless,no risk of infection & add sparkle to a smile.There are less document references available regarding this material so an effort is made to document about tooth jewellery.
Introduction:
Today, people are becoming increasingly self-conscious about their appearance and smile. They are looking for various treatments like body art and cosmetic dental treatments to achieve the desired aesthetic appearance, attention, to make a fashion statement and to be unique among the crowd. Body art includes tattooing, body piercings and oral soft tissue piercings. All body piercings presents a level of risk of infection, and are painful. Documented complications are related either to

The jewellery (aspiration, allergy or chronic injury to adjacent teeth/ mucosa, including tooth fracture and gum recession, which can lead to tooth loss) or to

the piercing procedure (local bleeding, swelling, nerve damage, toxic shock, permanent drooling, impaired sense of taste, or distant infections of the liver, heart or brain), tongue and lip piercings with metal barbell that interferes with speech, taste and mastication.
But, with the introduction of cosmetic dental treatments like porcelain veneering, composite veneering, bleaching and placement of tooth jewellery, patients smile can be made more pleasing, appealing, and aesthetic. This results in increased self confidence of the patient. Among these cosmetic dental treatments bleaching and veneering procedures are indicated for patients with discolored teeth, spacing between teeth, and mild irregular teeth, where as oral tooth jewellery is for all patients who wants a dazzling smile. The advantages of it being a temporary, painless procedure and it do not involve any invasive treatment on the tooth like drilling holes.
Types of tooth jewellery:
Tooth gems are crystals glass mounted on a thin foil of aluminum to create the attractive spark available in different colors.








Brilliance tooth jewelry is available in 3 different colours crystal clear, sapphire blue, ruby red and is of two sizes - 1.8mm, 2.6mm Figure1. Rainbow crystals are the least expensive version of tooth jewellery. They're ideally for short term attachment, to try the new service in your practice or for the customer with a smaller budget rainbow crystals are available in 10 different colors and two sizes (1.8mm and 2.5mm)
Twinkles are pure gold and precious stones like diamonds, sapphires and rubies in different shapes like
Diamond, Star, Triangle, Heart shape, Drop, Navette, & round shapes






Procedure & bonding instructions:
The tooth is cleaned with a fluoride-free polishing paste.
Completely dry and isolate the tooth.
Tooth is etched with 37% orthophosphoric acid for about 20-30 sec to increase the surface area for bonding.
Rinse surface thoroughly with water and blow dry for 10 sec. (no etchant should remain on the tooth.
Apply a light-curing bonding agent. Leave it on for a maximum of 20 seconds, distribute bonding through air blowing.
Then light-cure for 20 sec.
Apply a small amount of flow composite to the surface of the tooth.
Use a jewel handler to easily pick up the jewel. Press it into the center of the composite. (The composite must ooze on the sides so it is encircled by the composite, ensuring macro mechanical retention, but make certain the jewel is in contact with the enamel.)
Now you may adjust the jewel while letting the patient check the desired positioning in the mirror.
Take the light-curing lamp and start curing the composite from the top for about 60 seconds. Light cure from the sides for a few seconds and also cure the composite from the back of the tooth for another 60 seconds making sure the composite hardens evenly. Total curing time is approximately 180 seconds. (Follow instructions of the bonding-system you are using!
The total time for jewel to set into the composite is 20 sec. Do not touch the jewel with your fingers once it's removed from the case. To guarantee maximum adhesiveness, it is essential to avoid skin contact with the special coating on the backside of the jewel.
It takes about 4 minutes to safely affix the jewel.
The enamel is treated with topical fluoride to remineralize the etched area.
Removing the tooth jewel:
The jewel is removed in the same way as an orthodontic bracket and the enamel will not be harmed.
After removal of the gem, the tooth needs to be polished, which takes away any remaining bonding materials.
Use a scaler or a rubber polisher when removing the stone. In case of leftover bonding or composite on the tooth, simply removeit by using a polishing tool. It is recommended to treat the tooth with fluoride, so remineralization and stabilization of the enamel is provided.
REPAIRING CHIPPED TEETH
Tooth bonding is used in several different ways, but is probably most useful for repairing chipped teeth. Bonding materials (high-density, space-age plastics called composite resin) and porcelain--are more natural in color and can be designed to perfectly match the surrounding teeth making it difficult to discern there ever was a broken tooth.
Transitional bonding is used for anything from a mock-up to a full-mouth rehabilitation. It's called transitional because it allows the patient to transition into more permanent dentistry as he or she can afford, or as the treatment sequence demands, and it allows the dentist time to work out any bite related and esthetic issues. Transitional bonding is an important tool in the skillset of an accomplished cosmetic dentist.
VENEERS
Communication with your dentist about what you want corrected is critical for a successful result. Spend time clearly identifying what cosmetic improvements you want to accomplish.
The Hows and Whys of Porcelain Veneers
Porcelain laminate veneers consist of a compilation of several thin ceramic layers which replace original tooth enamel, and an adhesive layer. To apply a veneer, a very small amount of the original tooth enamel must be removed, usually less than a millimeter. This is essential as it creates room for the porcelain veneer to fit within the mouth and most accurately restore natural tooth function while creating an even better appearance than the original tooth.
The bond between original tooth and porcelain veneer is critical as it not only provides the esthetic perfection desired,but also a strong bond which is essential for correct veneer function. Light-sensitive resin is placed between the original tooth and the veneer and then hardened using a special curing light.
Porcelain veneers are a very successful option in many situations where the original tooth has developed poor color, shape, and contours. It is also a good choice for fractured teeth, gaps between teeth, and in some situations where the tooth position is compromised and there are minor bite-related problems. For some people, superficial stains do not respond well to tooth whitening or bleaching. In these situations, a porcelain veneer may be the best option.
Maintenance of a Porcelain Veneer
Maintaining porcelain veneers is actually quite simple:
Treat them as you would your original teeth,with routine brushing and flossing.Using non-abrasive fluoride toothpaste will typically be suggested by your dental professional.
You should also return to your dentist for regular professional maintenance because porcelain veneers should be polished with a specially formulated, non-abrasive paste & because your dentist needs to inspect your dentistry for any sign of potential failure.
DIRECT BONDING
Bonding is a popular treatment option because it provides a successful attachment between the filling material and the tooth's original enamel and dentin. It looks like the original tooth and functions like it as well.
Direct composite bonding is used to recreate a smile in an additive manner, where little or no tooth reduction is needed. Direct bonding, in the hands of a skilled operator,is less costly than porcelain veneers and crowns and can be long-lasting with proper maintenance.
Enamel and Dentin
Teeth are a perfect combination of both strength and resilience and this is created through the fusion of enamel and dentin.
Enamel is the outer shell of the tooth or the portion that is visible within the mouth. It is composed of densely packed calcium crystals which are very hard and resistant to wear. Enamel is composed of no living material and is effectively mimicked by dental porcelain.
Dentin is the inner core of the tooth and is much more porous. Constructed of collagen tubes with calcium crystals, dentin is living tissue and transmits nerve sensation. Composite resins have properties similar to dentin and are a combination of a plastic resin and silica filler. This combination of materials allows for excellent tooth color replication and reliable adhesion.
BONDING TO REPAIR BROKEN OR CHIPPED TEETH
Tooth bonding is used in several different ways, but is probably most useful for repairing chipped teeth.Bonding materials (high-density, modern plastics called composite resin) and porcelain—are more natural in color and can be designed to perfectly match the surrounding teeth making it difficult to discern there ever was a broken tooth.